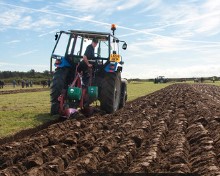 Deadline for applications: 16th June @ 12:00pm
The Agriculture – Sustainable Development Division of the Welsh Government is seeking a PhD student for a placement opportunity within its Agricultural Legislation Development team. The team's remit falls under the portfolio of the Minister for Rural Affairs, North Wales and Trefynydd which supports delivery objectives identified under primary legislation such as the Agriculture Sector (Wales) Act 2014 and the Wellbeing of Future Generations Act. The team works closely with a wide variety of internal and external stakeholders and representatives of the UK Government and the other Devolved Administrations.
The purpose of the post is to explore, and potentially develop, options to improve the data and evidence base available to the Panel and policy team, and specifically to investigate potential effective means of collecting appropriate and useable statistical data to support more robust estimates within the Regulatory Impact Assessments supporting future Agricultural Wages Orders. The work will be split into three phases and through working with Policy Team, Welsh Government Statisticians and Economists:
Phase 1
Develop a thorough understanding of the problem and data/evidence requirements.
Phase 2
Identify potential current or future innovative solutions to address the current gaps in required statistical data and provide consideration of the likely feasibility, costs, benefits and risks of each option. This should include careful assessment of relevant statistical and data issues such as survey response rates, data usability, statistical representativeness, quality considerations, and scope for annual repeatability etc. Such potential solutions could involve influencing existing or developing data collection projects, for example, the AD I ARC, to better adapt where possible to meeting the Panel's needs.
Phase 3
Develop the approach to pilot the preferred option, setting out the methodology and technical issues and how they will be addressed. Implementation of any pilot will depend on obtaining approval from the Welsh Government taking account of the nature of the proposals, costs, likely time requirements, and other relevant factors. Subject to approval and time availability, the work could involve initial piloting and recommending improvements for future iterations, where required.
For further information about the post and details of how to apply please download the following document: