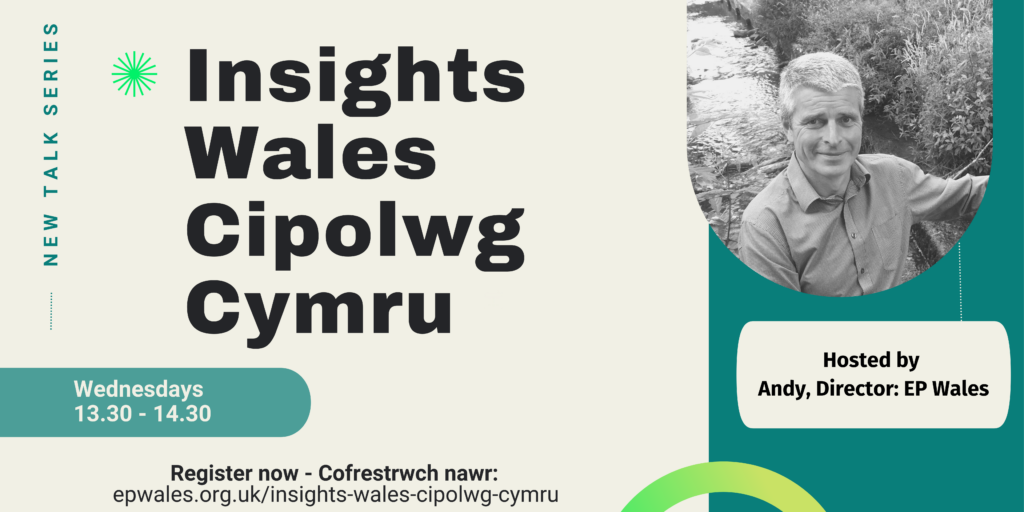 Weekly webinar, discussion & research showcase:
Wednesdays from 13.30pm
In 2022, we'll host a new webinar series entitled 'Insights Wales – Cipolwg Cymru' which will provide a new platform to illuminate the research taking place throughout Wales. Hosting a range inspirational and entertaining speakers, the weekly webinars will cover a variety of diverse topics to reach a wide range of audiences.
We'll align these talks with Welsh Government's 'Programme for Government – 2021-2026', Natural Resources Wales' SoNaRR and evidence needs reports and the sessions will be a way of linking research to key policy needs and provoking conversation and connections surrounding these areas.
Format and set-up
Hosted by EP Wales Director Andy Schofield, the 30-40min talks will be solo or double-header webinars and will explore:
Details of research undertaken, results, questions arising/next steps
Career overview and lessons learnt (NRW/WG) or pathway into research (Academics/Postgrads)
Current opportunities and where to find them?
Q&A / discussion
Join us: share your research findings
Looking to enhance the reach of our your research? Seeking to make connections in the EP Wales community of researchers, academics, policy makers and evidence users?
The webinars are an opportunity to present your findings in an informal online environment, share your knowledge and experience and seek collaborators for future work and projects.
Contact us today to share your work or ideas with us and let us host your discoveries and findings on our platforms.
Upcoming Talks in 2022
| | | |
| --- | --- | --- |
| Date | Presenter | Title/Subject of Presentation |
| 22nd June | Adam Thorogood (Woodland Trust) / Gethin Davies (Snowdonia National Park Authority) | The Celtic Rainforests Initiative – aligning with World Rainforest Day. |
| 29th June | Tomos Jones, N.Wales Wildlife Trust/Reading University | Invasive Species Impacts in Wales |
| 6th July | Edward Miller, Swansea University | Digitalisation in Aquaculture, with a focus on Recirculating Aquaculture Systems |
| 13th July | Dr Iestyn Woolway, Bangor University | Reservoir, Renewables and Water Quality |
| TBC | Simon Bareham, NRW | Air quality monitoring in Wales |
| TBC | Dr Isabel Sebastian, Cardiff University | Rewilding in Wales |
| TBC | Prof Jonathon Deacon/Dr Elizabeth Lloyd Parkes, University of South Wales  | Public attitudes to transport as part of Bike to Work Week  |
| | | |
---