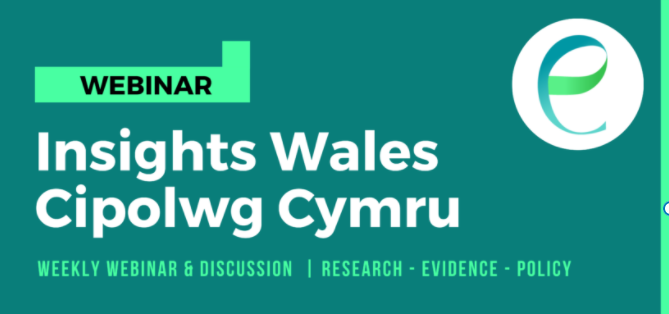 Please click on the link in the table below to view the previous presentations
Date
Presenter
Link to Recording of Talk
26th January
Liam Olds,
Colliery Spoil Biodiversity Initiative
Biodiversity value of coal tips

2nd February
Prof. Steve Ormerod,
Cardiff University
Valuing our Wetlands
9th February
Prof. Richard Lucas, Aberystwyth University
Living Earth: monitoring environmental change through Earth observations.
16th February
Dr Gary Walpole,
Cardiff Metropolitan University
Can Open Innovation practices be applied within Public Services to support the movement to a Circular Economy?
23rd February
Dr Francesca Mancini,
UK-CEH
'Bringing the data revolution to nature recovery'
9th March
Holly Butterworth,
NRW
Futures and Innovation in NRW
16th March
Dr Andy Rees,
Welsh Government
Beyond Recycling
30th March
Dr Mohammed Rezania
Warwick University
MINRESCUE Project
6th April
Lynsey McAllister
University of South Wales
Biodiversity Monitoring in Upland Wales
13th April
Jennifer Maher, University of South Wales
Processes and Problems in Evaluating the Nature and Prevalence of UK Wildlife Crime.
27th April
Rebecca Cioffi/Kirsten Ramsay
Welsh Marine and Fisheries Evidence: The interplay between politics, policy and protection
11th May
Prof. David Kay
Are bathing water standards based on sound science?
lessons of the ERDF funded Acclimatize Project
18th May
Dr Jamie Alison
Pollinator monitoring in Wales: Transect walks, timed counts… and 24-hour insect surveillance cameras?
25th May
Dr William Perry
From poo to policy: Wastewater surveillance in the COVID-19 pandemic and beyond
1st June
Prof. Carlos Garcia De Leaniz
Defragmenting Europe's Rivers
15th June
Dr Jeanette Reis
Marine mammals and codes of conduct
22nd June
Adam Thorogood/Gethin Davies
Celtic Rainforest Initiative
29th June
Tomos Jones
Invasive Species Management in Wales
6th July
Rev. Paul Cawthorne
Historic PCB production and disposal in South Wales: a soil and river toxic legacy still accumulating?