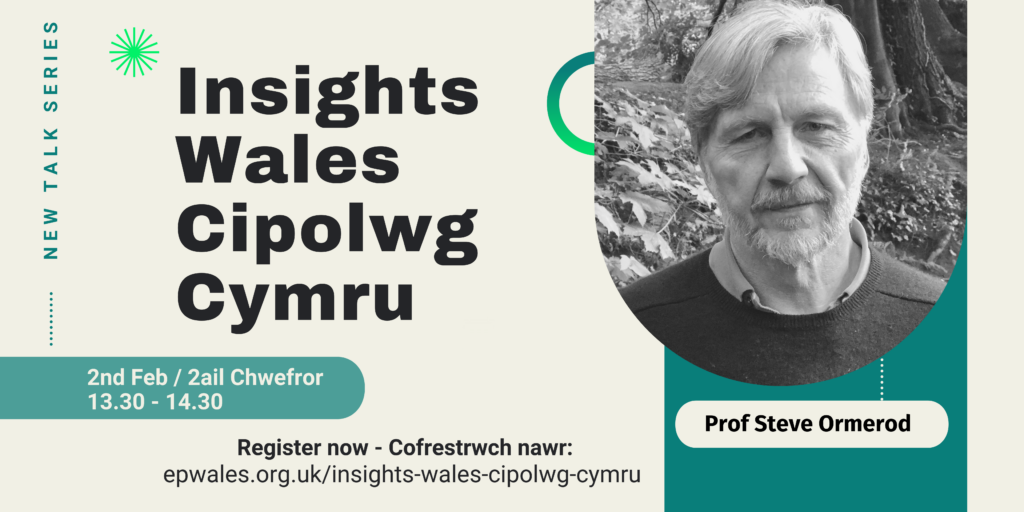 Insights Wales-Cipolwg Cymru, 2nd February 13.30-14.30
The Changing fortunes of Welsh Freshwaters: a perspective on World Wetlands Day: Professor Steve Ormerod
This event has now taken place – watch the catch up below.
Professor Steve Ormerod is an expert on freshwater ecosystems and, as well as being a Professor of Ecology at the School of Biosciences, is also a Board member of the GW4 Water Security Alliance.
Seeking solutions to the problems of freshwater ecosystems through policy and management, Steve's work is explicitly ecological and unified by the theme of ecosystem-scale perspective of rivers, lakes and wetlands with activities focusing on:
Global change effects on freshwater organisms and ecosystems
River Ecosystem services
Pollution including #microplastics
The ecology of river and wetland birds
Over the course of a research career spanning almost 40 years, he has held numerous high-profile roles and is currently Deputy Chairman of Natural Resources Wales,  Vice-President of the Royal Society for the Protection of Birds, Member of JNCC and Chairman of Europe's only invertebrate charity 'Buglife'.
---