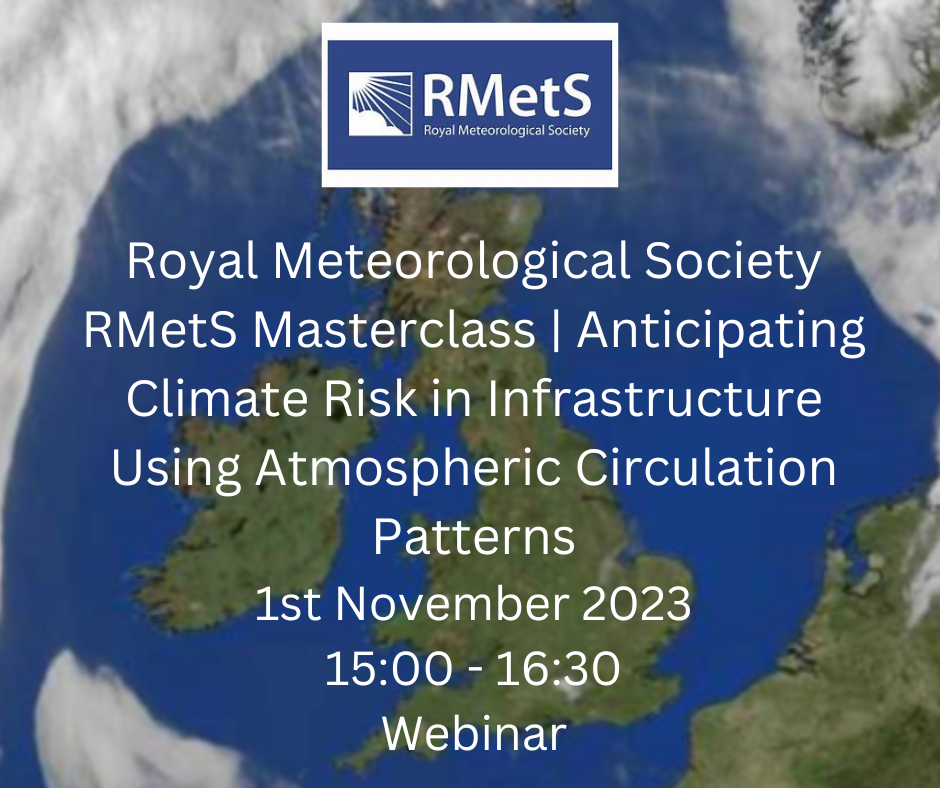 Masterclass | Anticipating Climate Risk in Infrastructure Using Atmospheric Circulation Patterns | Royal Meteorological Society (rmets.org)
Reliable and affordable infrastructure systems are the backbone of modern service-based economies. From communications and energy to transport and water, a key feature of these systems is their interconnectedness – that is, an event at a particular place and time has consequences that ripple throughout an extended network and period.

This talk will explore how weather and climate information propagates through to consequences and decision-making value in these complex systems. A particular focus will be to demonstrate how atmospheric circulation patterns can be used to support deeper physical understanding of processes, to derive more skilful extended-range predictions, and help to inform decision-making on timescales from several days to many decades. Recent examples will be drawn from energy-system applications including: the use of pattern-based methods to exploit conditional predictability, and the use of multi-decadal climate and climate-change datasets for assessing extreme weather-stress.
Speaker
Professor David Brayshaw
David Brayshaw is a Professor of Climate Science and Energy-Meteorology, and joint Head of the Department of Meteorology at the University of Reading. Brayshaw's interests span both fundamental and applied climate science, with a particular focus on the application of climate information in the energy sector. He has led contributions to several large multi-national research projects, including two prototype "climate services for energy" (ECEM, S2S4E) and the pan-European advanced climate modelling research programme (PRIMAVERA), and much of his work features close collaboration with industry stakeholders. Brayshaw founded and chairs the interdisciplinary "Next Generation Challenges in Energy-Climate Modelling" workshop series which brings together more than 100 researchers from around the world, across energy- and climate- science, industry and policy. Brayshaw is a Fellow of the Royal Meteorological Society and is also founding co-chair of the RMetS "Energy" special interest group.
Masterclass Series
Continuing our online Meteorological Masterclasses in partnership with the University of Reading, we are pleased to announce a new Masterclass series in "Atmospheric Blocking: Dynamics, Predictability, Impacts and Climate
During this series, three leading experts from the University of Reading will discuss the latest scientific advances for understanding and predicting weather, climate, and its impacts. Topics to be covered include the fundamentals of blocking, anticipating climate risk in infrastructure using atmospheric circulation patterns and representation of blocking in modes and climate projections.
These masterclasses are intended to provide support for professionals working in Meteorology and Climate Science, and its operational applications who wish to remain up to date on recent scientific developments in the field.
Masterclasses will run weekly on Wednesday's 18 October, 01 November and 08 November 2023 from 3 pm to 4.30 pm (UTC), consisting of a presentation followed by the opportunity for questions and discussion with the speaker. Whilst the webinars are part of a series, attendance at all three events is not compulsory.
Sessions will be available as videos for any member who has registered but cannot attend. All registrants will have an option to email questions up to one week after the date of them going live.