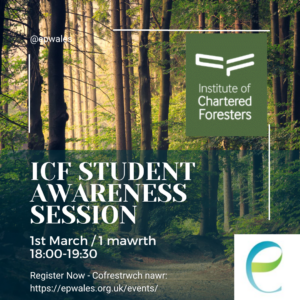 Come and listen to a panel, comprising members of the Institute of Chartered Foresters, who will talk about their roles and how membership of a professional institute has benefitted them throughout their careers.
The institute offers:
CPD/Training course, workshops and conferences
Links to employment opportunities
Social activities and events at both national and local level.
Reduced membership fees for students.
The 90 minute event will be held in a Zoom Webinar format with the presenters forming a panel to answer your questions about becoming a member of the Institute.