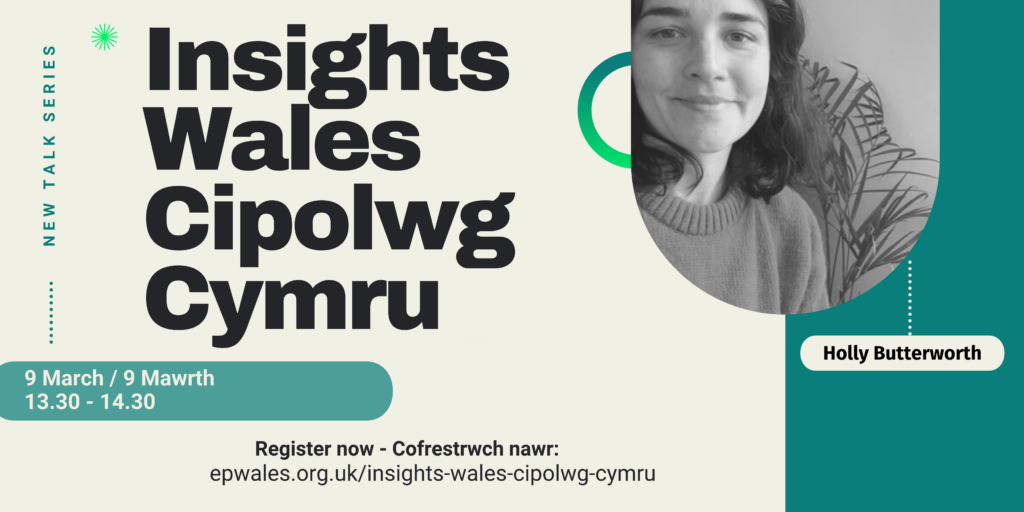 Insights Wales-Cipolwg Cymru with Holly Butterworth, March 9th, from 13.30pm
We're thrilled to welcome a friend of EP Wales to the latest Insights Wales-Cipolwg Cymru online talk and we'll hope you'll join us for a discussion on systems thinking, innovation and green infrastructure as part of Holly's remit within Natural Resources Wales (NRW).
Have you ever wondered 'What If?'. During this session Holly will share some of the tools and techniques NRW uses to consider the future in our work at NRW, and how we can make more resilient decisions in uncertain times. She will then focus on our current Natur a Ni project, which aims to create a shared vision for the Welsh environment in 2050. Together, we'll explore what the future could like through a set of scenarios, and have a go at futures thinking in practise!
Holly works in the Integrated Evidence Group in Natural Resources Wales, a government sponsored body for the environment. She supports staff and partners to think long term, and consider future trends to make more resilient decisions. Using specialist techniques, Holly facilitates evidence based conversations about what our future could look like, and how we might shape it. She also supports NRW's cross innovation group to foster new ideas, and adopt new ways of working.
Holly's background is in ecology consultancies, lab-based research, public engagement and behaviour change. Her particular interest is in big picture thinking, and transformative change to tackle the climate & nature emergencies.
We interviewed Holly about her career journey in a pod cast episode in 2020: listen to Holly's interview on our EP Wales career journeys podcast "Curious Minds".
You can hear from Francesca by following her on Twitter or checking out her UKCEH profile page to see her career journey and research.
---