Hosted by Environmental Platform Wales for PhD Students at Welsh Universities.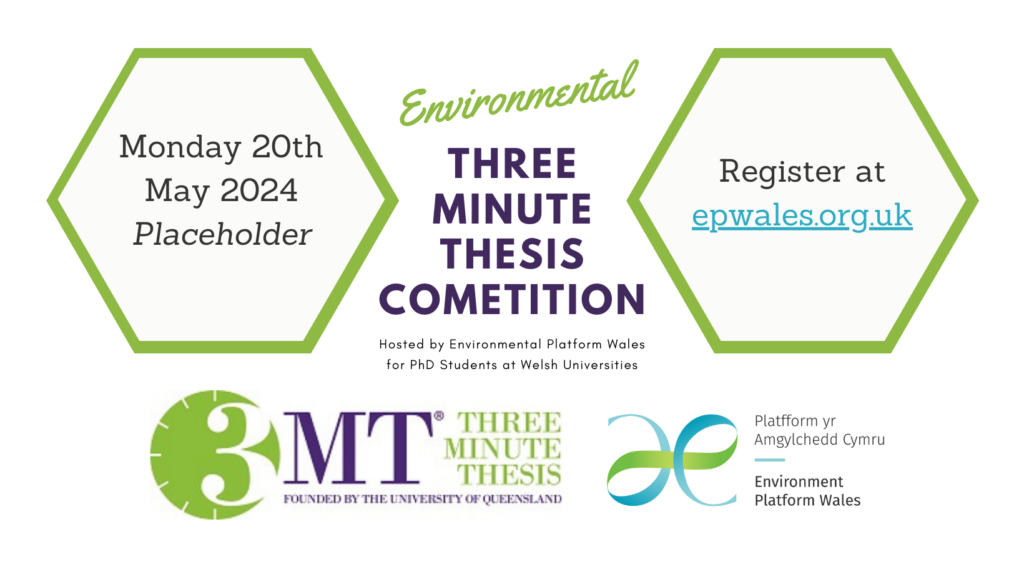 Environment Platform Wales will be hosting a virtual Three Minute Thesis competition on Welsh Environmental Research on 20th May 2024. Three Minute Thesis (3MT®) is an academic research communication competition developed by The University of Queensland (UQ), Australia, in which PhD students have three minutes to communicate their research findings to a non-specialist audience. We are inviting students from across our partner universities and research organisations to register to present. We have penciled in the 20th May 2024 for the competition, which will be hosted virtually on zoom.
We will also be hosting rounds for Masters and Undergraduate Students at Welsh Universities and educational/research institutions.
All students and staff are welcome to view the event, which will also be open to members of the public, Natural Resources Wales staff and Welsh Government partners. You will be able to register to attend as a member of the audience on this page nearer to the time.
Why should I get involved?

Participating in 3MT develops academic, presentation and research communication skills, while developing research candidates' ability to effectively explain their research in language appropriate to a non-specialist audience. 3MT provides a valuable opportunity for PhD candidates to come together and talk about their research. It also provides a supportive environment in which schools, institutes and universities can provide presentation skills training.

Higher Degrees by Research | Start your 3MT journey here | Three Minute Thesis | University of Queensland
Register to present